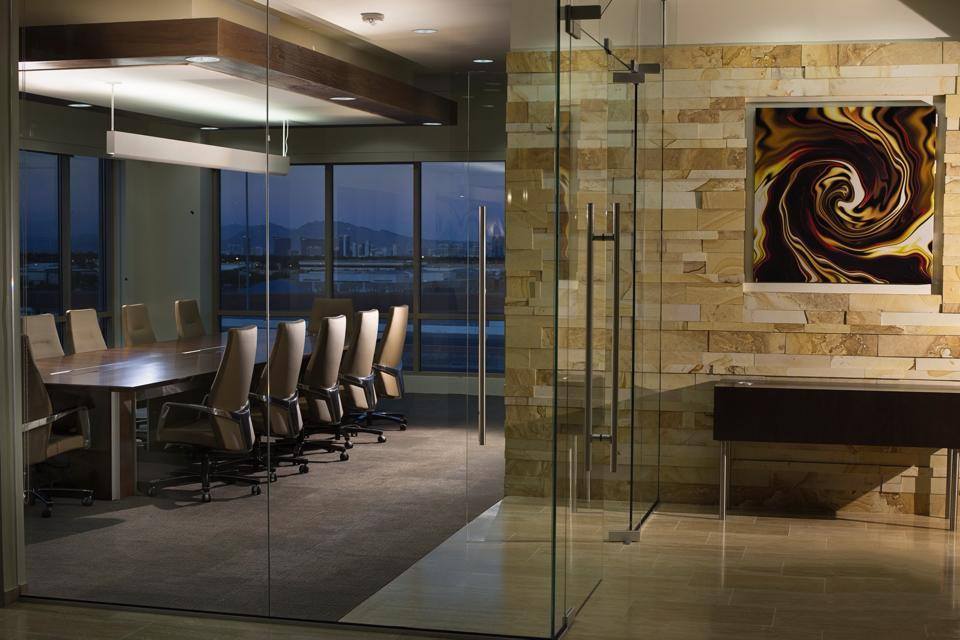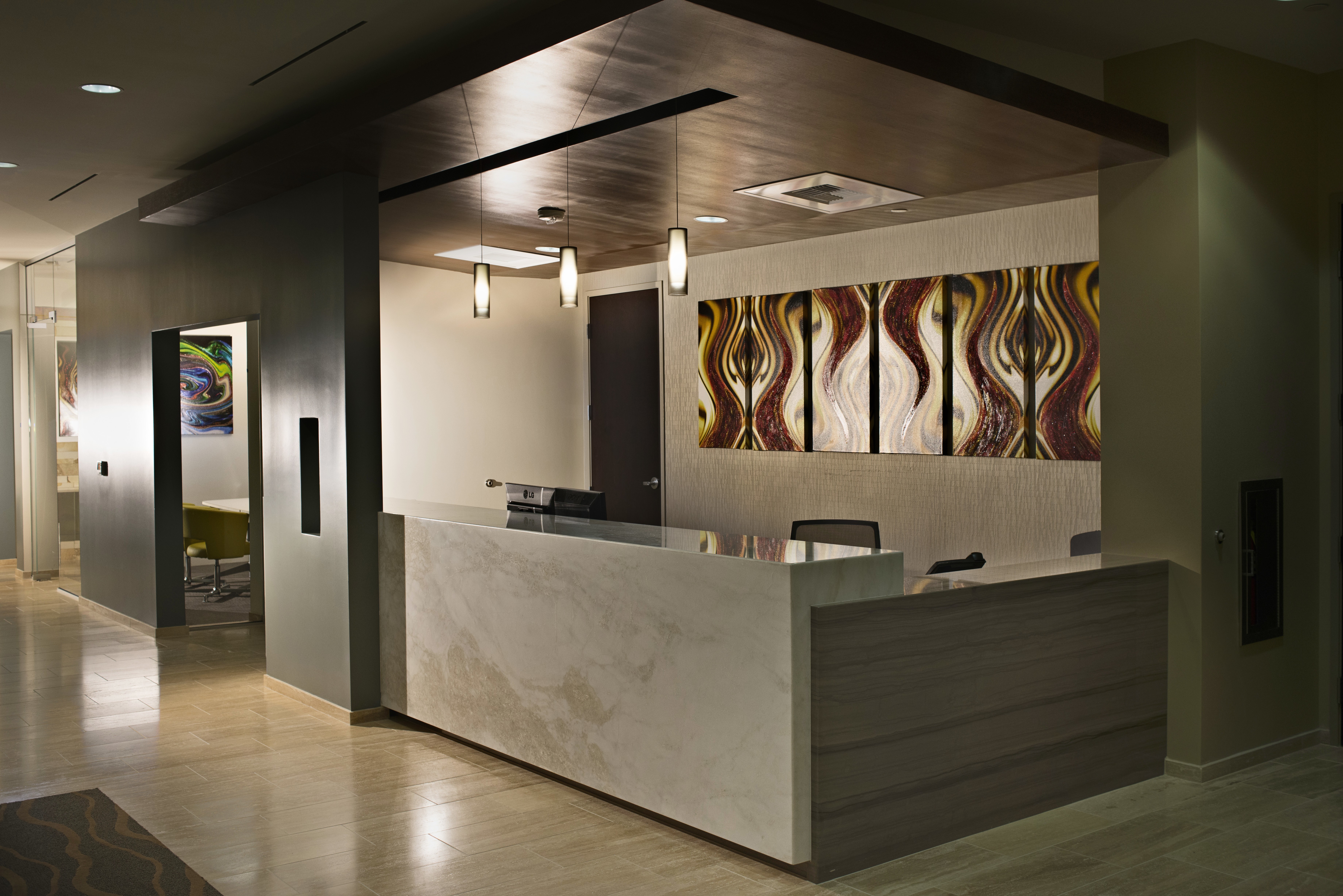 Client: Keating Law Group
Size: 9,500 sf
Date Completed: August 2014
Keating Law Group, a local law firm specializing in litigation, engaged Aptus to design their new 9,500 sf corporate offices. The grey shell space is located in the southwest part of Las Vegas in a 3-story office building that provides spectacular, uninterrupted views of the Las Vegas strip skyline.
We all know you never get a second chance to make a first impression and it was this important concept that our design team embraced when creating an overall vision for the new space. Since the first experience a visitor will have upon arrival is the lobby area, a great amount of focus was spent on creating a memorable Class A environment with rich materials and clean, modern lines within this space.
The client was presented with three unique material palettes that all incorporated a variety of textures, patterns and colors that would bring a high- end hospitality feel into the office setting. The client ultimately chose a "Desert Modern" palette rich with colors of the local landscape and sky. A main feature of the lobby includes the Teakwood Sandstone walls. With their velvety finish and solid feel, they provide a contrasting point of execution for floor to ceiling glass walls and doors. A modern white marble with subtle hints of warm beige was selected for the clean lines of the reception desk and built-in console table. In contrast, stained walnut wood provides warmth at the angled ceiling over the reception desk, clouds over the conference room tables and a subtle backdrop for office signage.
Four conference rooms of varying size and capacity are all located off the main lobby area, providing clients and lawyers with a comfortable space for any meeting or deposition. Two distinct seating areas and a private telephone room offer clients and employees a place to take a phone call without disturbing their co-workers while still being within the comfort of their office. APTUS worked closely with a local furniture contractor to assist the client in designing and selecting unique, modern pieces that coordinated with each of the spaces.
Transitioning from the lobby into the main office space you will find a more traditional approach to office design with large offices for each of the two partners that boast expansive views of the Las Vegas strip. Smaller, private offices are located at the perimeter of the building, each with a window that allows natural daylight to escape the enclosed office and provide lighting to the inner office space for support staff. Centrally located is the main office work area with large format printers, copiers, and a small break area with drink station. The functional layout allows for circulation around the perimeter of the secretary stations each equipped with higher privacy walls and a lowered service counter area.
The secondary portion of the office space was located in a separate suite reserved for file and document storage, additional offices and conference room for future growth needs and a staff lounge area with full kitchen. Having this additional space allowed for the focus in the main office area to be one of cleanliness and organization rather than document storage and clutter, ultimately making it a more enjoyable and focused environment in which to work.